Welcome to the 5SOS Wiki!
5 Seconds of Summer or popularly known as 5SOS, is a Punk-Rock Australian Band formed in Sydney 2011. The band has four members with the names Ashton Irwin, Luke Hemmings, Calum Hood, and Michael Clifford. The band is currently working on songs for their new album.(Feb 2014) They were on tour with One Direction (Take Me Home Tour) but are planning on doing heir own tour in spring 2014. (US & Canada: Stars & Stripes & Maple Syrup)  
5SOS as a band is currently very active on multiple social media sites, including facebook, twitter, and instagram. The boys have their own personal accounts on twitter and ig.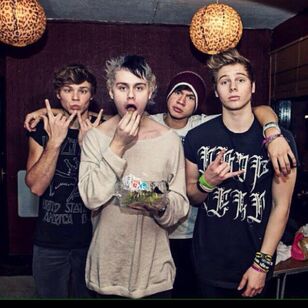 For some more information visit the 5SOS Basics page

WARNING being a part of the 5SOS Family can be emotionally straining, serious consideration these hazards is advised before joining.
THEIR SECRET OCCUPATIONS: Michael is secretly the Fairy Ambassador of Australia. His pink hair automatically updates the fairys. Luke is Ned Kelly's great grand daughter. He robs the poor and gives to the rich. Calum is an illegal Mexican immigrant from China, who is escaping from the wrath of the fictional character, VOLDEMORT. Ashton is that hobo on the corner of your street. The one that reeks of marijuana.
But don't tell anyone that, because as stated, its a secret
Latest activity
Recent Instagram Pictures Uploaded
@'5SOS Currently has 540'k Followers on Instagram.
@michaelgclifford Currently Has 647k Followers on Instagram
@calumhood Currently Has 714k Followers on Instagram.
@luke_is_a_penguin Currently Has 777k Followers on Instagram
@ashtonirwin Currently Has 925k Followers on Instagram
Photos and videos are a great way to add visuals to your wiki. Find videos about your topic by exploring Wikia's Video Library.