Following some by 5 Seconds of Summer band member Luke Hemmings.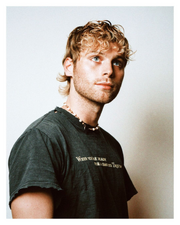 "Oh sorry, sometimes I sleep with my eyes open... Are we in Florida yet?"
"I LOVE penguins."
"ASHTON IS MY BFFFFFFF!"
"I would be the first to die in a zombie apocalypse. It's frustrating."
"Hey, hey, Michael. What is life?"
" i appreciate penguins."
''Fuck you calum!''
"only Petunia can judge me."
"I hate this band"
"Petunia is my girlfriend she is gorgeous!"
"Petunia is the light of my life."
" Taking the pants down fits with the image of the band."
" yOuR nEvEr gOnNa mAkE iT"
"It sounds a bit loud for an acoustic set Calum"
"the bODACIOUS"
"You fake betch"
"Friendship is like peeing yourself: everyone can see it, but only you get the warm feeling it brings."
"Cause we could, feeeeel something's broken" *punches air* "MY HEART"
"Hey we're 5 Seconds of Summer. Summer? Hey we're Foive Secuhnds of Summah."
"I don't know who I am"
"Gaffer? I've never heard Gaffer before."