Following are some of the most iconic quotes by 5 Seconds of Summer band member Michael Clifford.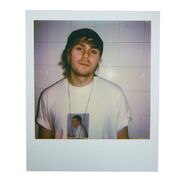 "The only time I'll ever be the little spoon is if I'm crying."
"Never give up on your dreams,keep sleeping ".
"My lips are huge, I'm Mangelina Jolie."
"It's unbelievable how you can affect someone so deeply and never know."
"Let's play Titanic, you be the iceberg and I'll go down."
"Real bands save fans, real fans save bands."
"When Ashton first joined the band, I convinced Calum and Luke that his middle name was Chlamydia."
"Ashton asked me out on a date and I said, 'No, my playstation is more important than your feelings'."
"I'm a pretty big pizza enthusiast so I could talk about pizza all day if you want."
"I'm pringle. That's kinda like single but hungry."
"Wearing pink underwear. Today is going to be fabulous."
"I do what I want – I'm punk rock."
"Sorry, Calum – I can't hear you over the sound of your ego."
"No, I am not dating Taylor Swift."
"If he doesn't give you the same feelings you get when the pizza guy arrives, he's probably not worth it."
"BONERS."
"We're going to divide you into 3 quarters... So thirds. I failed Maths."
"And a one, two, Scooby doo!"
"Oh my God I lost Daniel."
"Why weren't you a little bag of candy?"
"I WANNA BE IN THE TRIBE!"
"Aye yo baby, what you doin?"
"I fought a fiery dragon..."
"You have to eat your phone."
"OH MY GOD I FORGOT THE WORDS!"
"WAMWEISA."
"You want a completely serious answer? Will Smith."
"I feel like my tweets have been pretty good lately, am I right?"
"But for now please continue to send me funny cat pictures."
"Calum is in the toilet stall next to me screaming 'GET OUT OF ME'"
"Man I am way too tired to listen to Baby Got Back right now I want to stab myself"
"[I'm] constantly texting my friends 'help' every day."
"They told me I could be anything, so I became a lion."
"I am wearing double denim and I am not apologizing"
"How can I play black ops on my iPhone?"
" MICHAEL WANTS ANOTHER SLICE"🍕
"it's okay to not be okay"
"No tongue with butt"
Community content is available under
CC-BY-SA
unless otherwise noted.